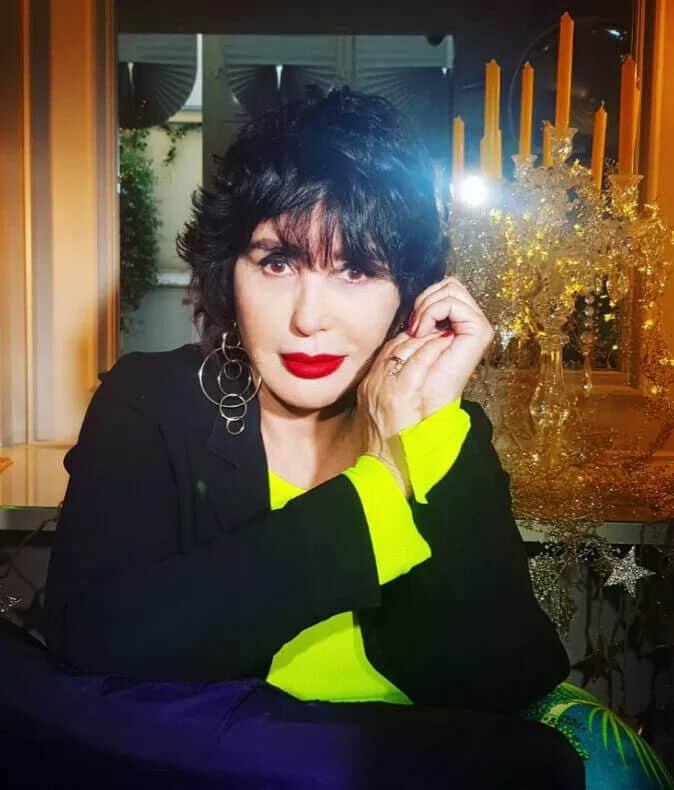 With her notoriety in France and abroad, Charlie beautifies all women, men and film stars who want to shine.
Charlie offers one-of-a-kind makeovers to bring out your glow, with a beautifying cut, color, and makeup. And why not also clothing advice ?
This is an exceptional service that requires total trust on your part so that, intuitively, Charlie can best transform you according to your personality and your morphology.
It is very important to know that if you come to see Charlie, the relationship of trust is key for optimal results !
Charlie is not obsessed with an inch less in your hair, but with STYLE and the way you LOOK !
Charlie will receive you privately for two and a half hours. You will feel as good as the stars who entrusted their beauty to her and signed their portraits – Isabelle Huppert, Sharon Stone, Isabelle Adjani, Catherine Deneuve and so many others.
On the day of the appointment, come with your favorite clothes and your usual make-up.
IT'S MOST IMPORTANT TO GIVE HER YOUR TRUST, CLOSE YOUR EYES AND … MUSIC MAESTRO !
"Charlie is "Edward Scissorhands" playfulness in flow. Hands spinning to chisel little tufts of hair, an extraordinary understanding of proportions, to reveal the delicate and intimate slope of the nape of the neck, bringing back a weightlessness and the desired profile !" (Catherine Deneuve)
"Charlie is like a little cherub. She likes angel's curls and the child-like nape of the neck. Look at her. She also does Mermaid's hair. Charlie is all heart." (Isabelle Adjani)
"Charlie en Particulier… She is also so particular. I've rarely met somebody so original, so full of energy, and full of life. And also with a real sense of humour. Not only she cuts my hair, but at the same time, she makes me laugh. Her optimism revives me, she enchants me with her zest for life. Of course, I go to see her for a haircut, but also for a real "injection of life"." (Isabella Rosselini)
"The eye of an artist with magic fingers, Charlie styles and cuts and creates, she joyfully imagines heart-breaking looks ! I love Charlie, her sense of humour, her kindness, and above all her talent ! See you very soon." (Cristiana Réali)
"Charlie? She is absolutely charming. She has taste, talent and instinct. In a ballet of combs, scissors and brushes, she cuts, curls, and grooms wonderfully. The hair falls in rhythm with her, and nothing can resist her. Candour, humour… dynamism and discretion are just some of the qualities that I like about her… Charlie is a true artist and that is why we all love her." (Sylvie Vartan)

I met Charlie over 25 years ago. Since that day, she's the only one who has cut my hair. It may seem absurd, but make no mistake, this touches the very essence of my personality.
My session with Charlie is like an initiation. I go every 3 months, and for 12 weeks the balance is perfect. My hair styles very easily and when it regrows, as time goes by, it still retains the chic of the cut.
As Jankélévitch puts it "This je ne sais quoi and almost nothing that changes everything…" Your spirit, your mind, this feeling of well-being, of inner strength that changes your outlook on the world… These are not words, but my truth which has lasted for over 25 years! I can deprive myself of many things but never of Charlie !
Since meeting Charlie in Los Angeles 5 years ago, I can no longer do without her! Besides, it's so good for your state of mind that it should also be reimbursed by social security.
During Covid, I lasted 4 months without retouching my cut and color. My hair was longer, but still just as perfect because the blonde Charlie gave me is so contrasting and luminous that while growing, the roots did not alter the color, and the cut regrows incredibly well.
You only have to shake your head while drying your hair to see how well her cuts fall. Blow drying is practically unnecessary and the result is more natural, chic and younger. It's like couture for your hair. Your haircut is unique, Charlie's work is unique, and she is unique !
Thank you, Charlie. I come to see you once every 4 months but I think of you every morning in front of the mirror. Thanks to you and your talent, I found Fabienne again, younger, more dynamic and with an enthusiasm that your haircut has given me back.
My hair falls so naturally without having to cut it or restore its volume. The color you create evolves, and the cut continues to give my hair an appearance and luminosity which makes those around me think that I only saw you last week.
Thanks again and see you very soon.
I'm delighted with this new haircut and color which have brought youth, freshness, and brightness to my face.
Charlie's make-up advice allowed me to better highlight my eyes and hide those dark circles that made me look so tired. Charlie also chose the base of my color to bring more contrast to my blond and reduce the visibility of my dark circles.
I love the haircut Charlie created for me because it fits my personality perfectly. It is so precise that my hair falls naturally from one side to the other and has finally become easy to style.
As the cut and the balayage hold a very long time, they are only redone every 6 months. Charlie provided my regular hairdresser with all the product references to cover my white hair every month. This way it continues to prolong Charlie's magnificent work.
What to say about Charlie en particulier ?
It's an experience that is as human as a hair metamorphosis. Hair and soul are finally connected to oneself, because Charlie with her silver scissors is a beautiful person with a great soul and she listens to us. She advises us and transforms us into who we really are, this person that we had forgotten about. Pushing Charlie's door transforms you forever.
Many thanks again CHARLIE.
A magic moment.
A great sensitivity and a lot of empathy. You feel immediately at ease and have trust in Charlie who figures out who you are and knows how to reveal you with tact, humor, and infectious cheerfulness. You come out fully pumped up and ready to take on the world.
The return on investment is immediate !
To say that we go to Charlie simply for a cut and a color is extremely simplistic. Charlie has a special gift, that of capturing the soul of her client, bringing it to light and enhancing it.
After spending almost three hours with her yesterday, I came out on cloud nine, sparkling and rejuvenated but above all moved by this beautiful encounter which was rich in humanity.
I can only recommend trusting her talented hands that chisels hair like an artist. Thank you Charlie, for all your valuable advice which I will treasure !
I'm already looking forward to seeing you again !
Transformation at Charlie's, rue du Mont Thabor.
With her benevolent gaze and accomplished technique, Charlie was able to uncover Marie-Amelie's personality with simplicity. The result, expressed with skill, was moving.
As a father, I deeply felt the need to give my daughter this gift, to reveal herself to herself. I invite you to do the same.
Trust her.
Charlie is an exceptional professional artist in hair styling.
Bright colors that don't fade over time and a cut that fits and makes me look great. Her talent lives up to her reputation. Thank you for enhancing and making me beautiful !
Meeting Charlie is the best anti-depression remedy !!! I recommend without hesitation.